Sub-Zero Refrigerator Repair Services
CALL US NOW IF YOU ARE HAVING ISSUES WITH YOUR SUB-ZERO REFRIGERATOR! We are open 24/7.
703-263-7111
301-617-2900
202-609-7941
571-490-7777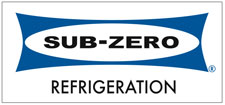 Are you tired of worrying about that funny noise your Sub–Zero refrigerator is making? Does the condensation on the door seem to be getting worse? Does the compressor seem to run constantly without cycling off?
These are all very real problems and can be symptoms of issues with specific parts on the verge of failure. For that reason, it's important you call a Sub–Zero refrigerator repair expert to inspect and repair your fridge as soon as possible. For quick and expert repairs in Virginia, Maryland, DC, Arlington, Gaithersburg and the greater Washington D.C. area, call All Time Services today.
Sub–Zero Refrigerator Problems
So, you've noticed that your refrigerator isn't cooling properly or you've seen a few drops of water coming out of the back of it – what exactly does this mean, though? There are a number of specific problems you may run into and a variety of red flags to look out for. Here is a rundown of issues you may experience:
Sub–Zero Fridge Service Experts
Whether you simply suspect a problem building or your Sub–Zero fridge has completely broken down, you need to call for service right away. We will schedule a consultation and repair visit as soon as possible to take care of whatever issues are plaguing your refrigerator.
For those living in Arlington, VA, Gaithersburg, MD and the surrounding areas, call All Time Services today to learn more about our Sub Zero refrigerator repair service in Virginia, Maryland, DC, Arlington, Gaithersburg and the surrounding areas